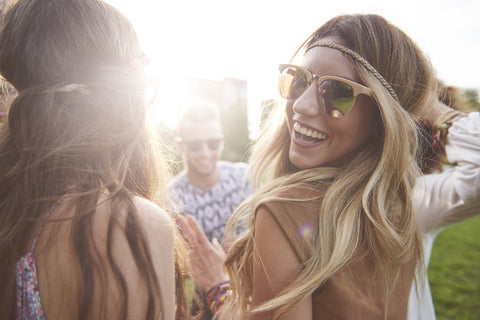 Do's & Don't's of Festival Fashion
Heading to a festie and not sure what to wear? We got you covered babe. See our list below for some essential do's and don'ts of festival fashion and get ready to rave!
Do's
All that Glitters
The key to festival fashion is GLITTER. Add as much sparkle as you want, there are no rules here. Add it to your hair, put some cute gems around your eyes, cover yourself in body glitter, do it all! Just keep in mind you WILL find glitter on yourself for the next few weeks- totally worth it.
Fun with Fabric
Festivals are great places to experiment with new, fun fabrics. Got a cute mesh top that is a little OTT for real life? Festivals are where you wear it. Add some faux fur and leather or lace to the mix while you're at it, now you're getting the idea!
Layers Layers Layers
Festivals can run across several days, so layers are important. You want to bask in the sunshine during the day, so rock that cute crop and shorts combo, but be sure to come prepared with a cape or jacket layer for later in the day when the night festivities begin. The more layers the more looks, babe!
Don't's
Heels. Duh
You're going to be partying for a while babe, forget the heels. While you're at it, maybe steer clear of the brand new white kicks, cause it's gon' get messy out there!
Cultural Appropriation
Hopefully we're all clued up on this one, but just incase- steer clear of using culturally sensitive items as a costume. Native American headdresses and Bindi's etc are not fashion statements, so don't be that guy- make sure your outfit is respectful to all cultures.
Overthink It.
Last but not least, just have fun with it! Festivals are places where you get to experiment with your look and go a little wild- so make sure your outfit expresses your inner flair and you will look as cute as you feel.