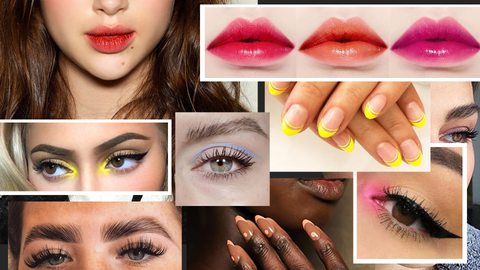 To celebrate the new year, we've compiled a list of must try beauty trends for 2020! Complete your newly refreshed look with a brighter smile and clearer skin and be sure to shop our range of all natural products; bring on the new year!
Big Brows
Big brows have been a fave of the beauty world for a while now, but 2020 will take our bros to new heights! Say goodbye to overly shaped brows, and hello to more naturally bold brows; think 90's Brooke Shields for style inspo. To achieve the look, brush your brows upwards and set in place with a firm brow gel.
Pops of Neon
Eye makeup was a little #teamtoomuch in 2019; so this year beauty gurus predict a scaled back approach. Instead of a full colour-blocked eye look, freshen things up by adding a pop of neon shadow to the inner corner of your eye.
Floating Liner
We are SO here for this upcoming trend! Gone are the days of battling with your liquid liner to get that perfectly thin and precise cat eye; 2020 is about mixing things up! Amp up your cool factor and try applying a pastel (or neon if you're feeling bold!) liner "floating" across your lid, play around with placement and have fun with it!
Hot Tip
Get ready for a throwback! For 2020 we are bringing back the french tip nail; with a twist. While you can stick with the traditional early 2000's classic white tip and still be on trend; why not try mix up the colour scheme or add some cute accent details? 
A Kiss of Colour
Full on, high maintenance lip looks are so 2019. Say goodbye to time consuming liner and overly drying lipstick. Scale back your look in 2020 with a more subtle lip stain; no more touch ups or smudges. Perfect pouts here we come!