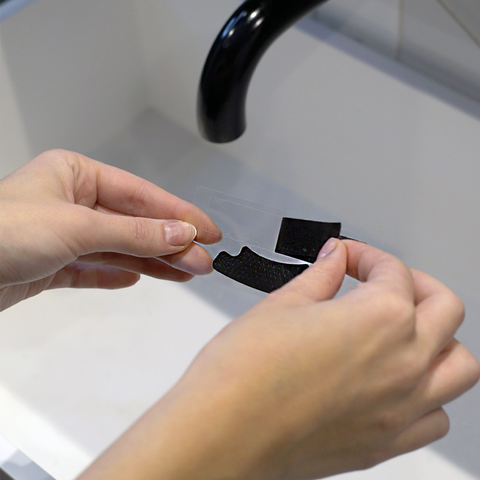 Whitening Strips: What's the Sitch?
So, if you're reading this you've probably spotted our brand new product: the Coconut and Charcoal Whitening Strips.These babies have been a long time coming; so it's time to give them a proper introduction! They are whitening strips with a difference. The strips are enamel safe and peroxide free; so you can whiten your teeth safely and effectively. Perfect for people on the go, our whitening strips are easy to use and will have your smile shining in just 14 days!

But how do you use them? See below for the simple steps and be on your way to a brighter smile in no time!
First up, be sure to start with dry hands for tidy application. Tear open the foil package along the perforated edge; and peel off the strips from the backing paper (working one at a time).
Next, simply align the top strip with your gum line and adhere the sticky side to your teeth. Any excess strip can be tucked behind your teeth to help keep the strip securely in place as it removes stains. Repeat for the bottom row of teeth, folding the small tab over the back of your teeth.
Then, relax! The great thing about these strips is that they can be worn while you do other life admin; whether it's doing your hair and makeup, some last minute chores or just simply putting your feet up- our Coconut and Charcoal Strips work their magic as you go! Leave the strips on for up to 30 minutes for best results.
Once your 30 minutes are up, simply remove the strips and rinse your mouth thoroughly. We recommend following up with our Activated Charcoal Toothpaste to get a deep clean and help protect your smile from future stains (or better yet, why not try our new Whitening Kit that combines our famous Tooth Polish, Toothpaste AND our Whitening Strips for added pearliness?).
Repeat this easy process for 14 days and you will be rewarded with a new, naturally whiter smile! So what are you waiting for? Try out these bad boys for yourself today; and don't forget to share your results @carboncocoresults on the gram!
Love Carbon Coco xx